eWeather HD 2.8 - Be Ready for Severe Weather
Today we are very happy to release the version 2.8 of eWeather HD for iPad, and iPhone. This update improves the app in a number ways, ranging from a fresh look and feel, new visual theme, new severe weather alert system for U.S. and Europe, multilayered weather maps, and all-around stability improvements. We really hope you enjoy using it! Below you can read more about what's new.

Download eWeather HD
eWeather for iOS 2.8 introduces a new, exciting look & feel. Our goal wasn't just to make eWeather HD prettier for you. Whether you're reading a detailed forecast, watching on the amazing "weather clocks" or interactive maps we wanted to give you more contrast on the screen to concentrate on the data. The most apparent visual change on the iPhone and iPad is the new visual theme. The high contrast of complementary colors creates a vibrant look and feel especially when used at sunny day or in a dark environment.
The new weather maps combines multiple layers of advanced weather information: vector-based maps with severe weather areas, city temperatures, high-resolution weather radar (U.S.) and earthquakes.
Vector-based maps allow to get accurate areas affected by weather-related extreme events (or forecasts of these extreme events). Severe weather maps and bulletins now available for the entire U.S. and 13 European countries including Austria, Belgium, Denmark, Germany, France, Ireland, Italy, Luxembourg, Netherlands, Norway, Spain, Switzerland and United Kingdom.
eWeather HD delivers data to your device with a clear and accurate picture of the storm along with official warnings. It truly provides weather data when you need it...where you need it.
eWeather HD 2.8 highlights:
* New multilayered weather map
* Severe weather alerts for Europe
* Severe Alerts Map (U.S. and Europe)
* Improved look & feel
* Two visual themes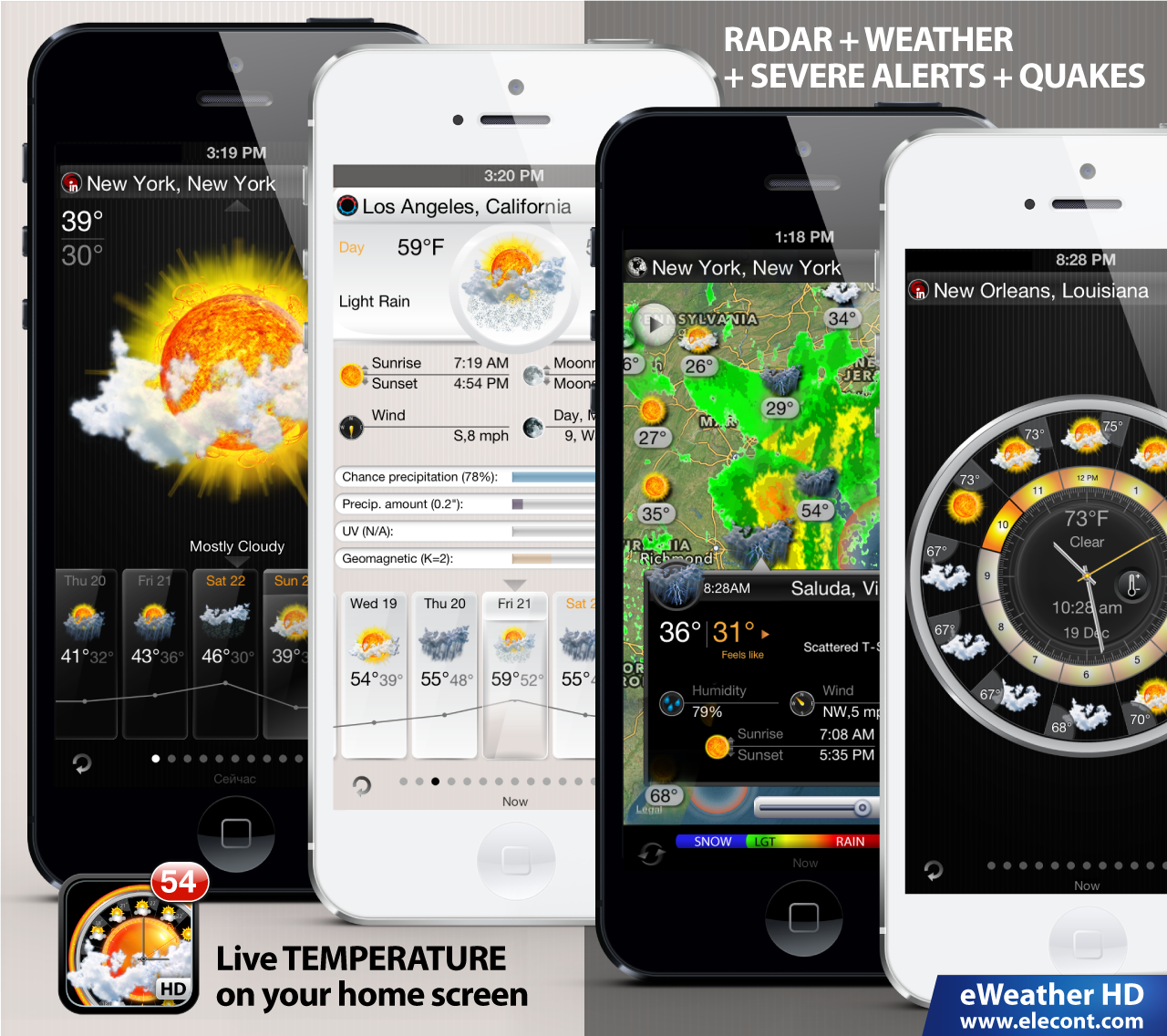 Supported Languages:
US English, Arabic, Armenian, Azerbaijani, Bulgarian, Byelorussian, Chinese, Czech, Croatian, Danish, Dutch, Finnish, French, Georgian, German, Greek, Hebrew, Hungarian, Italian, Japanese, Kazakh, Korean, Latvian, Lithuanian, Mongolian, Persian, Polish, Portuguese, Russian, Slovak, Spanish, Serbian, Swedish, Thai, Turkish and Ukrainian.
Device Requirements:
* iPhone, iPad, or iPod touch
* Requires iOS 4.3 or later
* 25.8 MB
Pricing and Availability:
For a limited time, eWeather HD 2.8 is offered at an introductory one-time fee of $1.99 USD (or equivalent amount in other currencies) and available worldwide exclusively through the App Store in the Weather category. There are no subscription fees or hidden costs.
Website
Product URL
Screenshot
Screenshot/App Icon

Elecont LLC is a fast growing software development company specializing in the mobile market, developing software solutions for Android, iOS and Windows Mobile devices. Elecont LLC was founded in 2007 and its primary offices are located in Russia. Copyright (C) 2012 Elecont Software LLC. All Rights Reserved. Apple, the Apple logo, iPhone, iPod and iPad are registered trademarks of Apple Inc. in the U.S. and/or other countries.
###
Elecont LLC